Cloud ERP company NetSuite helps organisations in Germany scale and grow
NetSuite Increases Presence in Germany with New Localised Product Capabilities and Expanded Team
Frankfurt, Germany—October 16, 2018—To help organisations operating in Germany take advantage of the cloud to grow, scale and adapt to change, Oracle NetSuite today announced new localised product capabilities and an expanded in-country team. NetSuite provides a suite of cloud-based business applications that help organisations scale and adapt to change. With new local certifications and capabilities, including IDW PS 880 and country specific reporting, NetSuite enables organisations of all sizes operating in Germany to standardise business operations, support global compliance and deliver real-time visibility across global operations. NetSuite already has more than 139 HQ-based and 900 subsidiaries customers in Germany.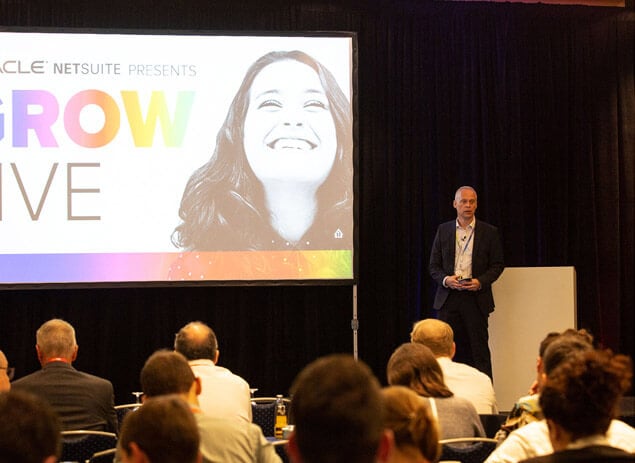 In order to address increasing competition, shifting customer expectations and constantly changing regulations, German organisations are starting to rethink their traditional technology platforms. In fact, according to the 2018 KPMG Cloud Monitor report, 66 percent of organisations operating in Germany were using cloud computing in 2017. To help organisations in Germany embrace the latest in cloud computing and support the thriving "Mittelstand", NetSuite is expanding its presence in the German market.
"The German ERP market is highly-fragmented and as more organisations are looking to the cloud, we wanted to provide an alternative to traditional legacy systems that could help organisations grow locally and internationally," said Nicky Tozer, EMEA VP, Oracle NetSuite. "With the latest release of NetSuite OneWorld, we are providing a complete solution with language, currency, tax compliance and local support teams for the German market."
With new localised product capabilities and an expanded in-country team, NetSuite enables German organisations or international subsidiaries operating in Germany to quickly and easily leverage an integrated suite of business applications to drive growth, reduce costs and achieve the benefits of cloud computing. In this latest release of NetSuite OneWorld, NetSuite has achieved the following local certification standards and features:
In-Country Auditing Standards and Processes
IDW PS 880 and GoBD (GDPdU) certification via Audicon: Enables customers to be in accordance with the Generally Accepted Accounting Principles (GoB), the German Tax Code (AO), the German Commercial Code (HGB), and the principles of data access and auditability of digital records, which are requirements for German headquartered businesses in regards to tax authorities.
GL Impact Locking (Storno): Update to transaction numbering to include memo fields to help ensure audit compliance, as these fields require to be auditable under change.
VAT based on revenue recognition: Support German specific processing by enabling organisations to flexibly manage who to recognise revenue and account for VAT correctly.
Bank and Cash Management Enhancements
In-transit payments and bank file import (ISO20022 MX CAMT053.001.01, BAI2): Helps customers have greater control over cash balances by recognising accounts payable at the point at which it clears on the bank statement.
Automated cash management: Empowers users to automate payments from the bank statement and automatically apply them against open accounts receivable transactions.
Reporting Improvements
Period End Closing Journal: Enables customers to automate the creation of period end journals to record consolidation of child subsidiaries at period end, and income statement (P&L) closing at year end, including CTA.
Country-specific reports: Provides customers with German specific reporting for required financial statements such as Income Statement and Balance Sheet, SUSA, OPOS, DATEV, Kontenblatt, Z4, Z5a, etc.
Fixed Asset Reporting: Provides customers with Anlagengitter and local depreciation methods in order to allow correct processing of assets, and gives an overview of the performance of the individual balance sheet items of those assets.
E-Filing EC Sales List: Provides customers with details of sales or transfers of goods and services to VAT registered companies in other EU countries to adhere to regulation.
"We have significantly expanded our German sales team across three offices in the last 15 months covering customer support, services, sales and marketing", said Hartmut Hamann, head of sales in Germany, Oracle NetSuite. "To help growing customer demand, we are also recruiting channel partners and systems integrators."
With customers now operating in 203 countries and dependent territories around the world, NetSuite is the proven cloud financials / enterprise resource planning (ERP) platform of choice for organisations operating and growing internationally. The expansion of Oracle NetSuite is announced with an exclusive event today in Frankfurt am Main.
About Oracle NetSuite
For more than 20 years, Oracle NetSuite has helped organisations grow, scale and adapt to change. NetSuite provides a suite of cloud-based applications, which includes financials / Enterprise Resource Planning (ERP), HR, professional services automation and omnichannel commerce, used by more than 37,000 customers in 219 countries and dependent territories.
For more information, please visit http://www.netsuite.com.sg.
Follow NetSuite's Cloud blog, Facebook page and @NetSuiteAPAC Twitter handle for real-time updates.
About Oracle
The Oracle Cloud offers complete SaaS application suites for ERP, HCM and CX, plus best-in-class database Platform as a Service (PaaS) and Infrastructure as a Service (IaaS) from data centers throughout the Americas, Europe and Asia. For more information about Oracle (NYSE:ORCL), please visit us at oracle.com.
Trademarks
Oracle and Java are registered trademarks of Oracle and/or its affiliates. Other names may be trademarks of their respective owners.