Join SDN
The first step to build your application on NetSuite is to join the SuiteCloud Developer Network, a dedicated, end-to-end program geared toward developers who build specialised and complementary solutions to extend the NetSuite platform, and set up your NetSuite account.
Conceptualise your application
Review NetSuite product features, identify how you will enhance NetSuite product offerings and conceptualise your SuiteApp application.
Decide how you want to build your application
NetSuite offers you a variety of technologies to build your application on the NetSuite SuiteCloud platform. You can build your application on the platform using native tools like SuiteBuilder, SuiteScripts and SuiteFlow, or integrate an existing application with NetSuite using web services.
Gain NetSuite Expertise
Once you have decided how you want to build your SuiteApp, the next step is to gain expertise in the technologies you will be using to build your application. You can access the rich help content available under SuiteAnswers and take product training sessions as needed.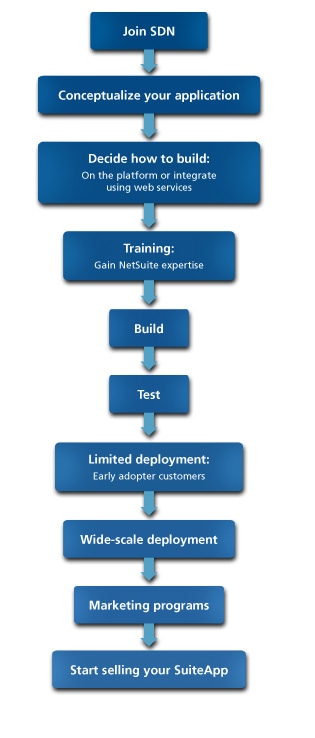 Build the application
Once you have gained NetSuite expertise, build your application using the best practices prescribed by NetSuite.
Test your application
Once your application is built, the next step is to thoroughly test your application. Make sure it works well with the NetSuite flows and hash out any issues you may encounter while testing.
Limited deployment
Once the product is thoroughly tested, you can use SuiteBundler to package the application so that it is ready to be deployed. Our recommendation is to deploy to a limited audience. Sell to a select number of early adopter customers and make them successful, and engage those early adopters as customer references.
Wide-scale deployment
Once you have some successful early adopter customers, you are ready to deploy your application and open it up to the entire NetSuite customer base.
Marketing programs
SDN offers a variety of marketing programs to help you to promote your SuiteApp to the NetSuite customer base.
Sales
With a successful marketing campaign, you are all set to start selling your SuiteApp.