World's top 3 players head NetSuite open main draw
10 of the World's Top 20 Players to Appear in San Francisco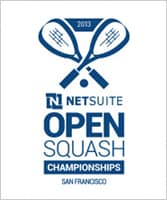 SAN FRANCISCO—August 14, 2013—The NetSuite Open Squash Championships' main draw field will boast the top three ranked squash players in the world—two-time World Champion and No. 1 Ramy Ashour, defending champion and No. 2 Gregory Gaultier and No. 3 James Willstrop—when the world-ranking tour event returns to an all-glass portable squash court on San Francisco's South Lawn of Justin Herman Plaza September 25–October 1, NetSuite Inc. (NYSE: N), the industry's leading provider of cloud-based financials / Enterprise Resource Planning (ERP) and omnichannel commerce software suites, and Event Engine jointly announced today. In addition to the world's top three players, the field for the Professional Squash Association tournament boasts 10 of the top 20 players in the current Dunlop PSA World Rankings.
"The NetSuite Open has a world-class field that is worthy of one of the sport's top tournaments," said Evan Goldberg, NetSuite's co-founder, Chief Technology Officer and Chairman of the Board. "I'm really proud that San Francisco and its great squash community is becoming one of the top stops on the PSA World Tour."
The 12-player main draw represents eight countries, including top ranked American player Julian Illingworth, who is currently ranked 35th in the world. The field also owns a collective six world championships (Ashour—two and Amr Shabana—four).
"The international diversity of the field speaks very well to squash and its global reach," said John Nimick, NetSuite Open tournament director. "Squash is truly an international sport, one that we hope will be added to the 2020 Olympic games."
The main draw (with seedings) for the NetSuite Open Squash Championships is as follows:
Ramy Ashour—Egypt (No. 1 seed)
Gregory Gaultier—France (No. 2 seed)
James Willstrop—England (No. 3 seed)
Peter Barker—England (No. 4 seed)
Amr Shabana—Egypt
Simon Rosner—Germany
Daryl Selby—England
Tom Richards—England
Laurens Jan Anjema—Netherlands
Miguel Angel Rodriguez—Colombia
Nicolas Mueller—Switzerland
Julian Illingworth—United States
Two-time World Champion Ashour (Egypt), who many consider to have the talent to become the best squash player of all time, will put his 41-match unbeaten streak on the line when he makes his first NetSuite Open Squash Championships appearance. France's Gaultier looks to defend his 2012 NetSuite Open title, when he defeated England's Nick Matthew. Britain's Willstrop, who attained the World No. 1 spot in 2012, recently won the final match of the 2013 Men's World Team Squash Championships to give England the title.
Sanctioned by the Professional Squash Association, the PSA International 70 NetSuite Open is one of the top 15 professional tournaments in the world as determined by prize money. With a $70,000 purse, the winner will earn $11,300. Just one of four major PSA World Tour tournaments to be held in the United States in 2013, it joins the J.P. Morgan Tournament of Champions (New York), North American Open (Richmond, VA) and Delaware Investments U.S. Open (Philadelphia) as the country's elite pro squash championships.
The early rounds, comprising two rounds of Qualifying and the First Round (final 16) of the Main Draw, will be played across courts at Stanford University, the Bay Club San Francisco, the Olympic Club and University Club September 25–27. The Quarter Finals, Semi-Finals and Championship will be played at Justin Herman Plaza September 28–October 1.
Some 400 reserved seats are available for the NetSuite Open, ranging in price from $30 to $250. For tickets, draws, schedule and more information, please visit www.netsuiteopensquash.com. Follow the NetSuite Open on Facebook and Twitter.
About NetSuite
Today, more than 16,000 companies and subsidiaries depend on NetSuite to run complex, mission-critical business processes globally in the cloud. Since its inception in 1998, NetSuite has established itself as the leading provider of enterprise-class cloud financials/ERP suites for divisions of large enterprises and mid-sized organisations seeking to upgrade their antiquated client/server ERP systems. NetSuite excels at streamlining business operations as demonstrated in a recent Gartner study naming NetSuite as the fastest growing financial management software vendor on a global basis. NetSuite continues its success in delivering the best cloud ERP/financials suites to businesses around the world, enabling them to lower IT costs significantly while increasing productivity, as the global adoption of the cloud is accelerating.
Follow NetSuite's Cloud blog, NetSuite's Facebook page and @NetSuiteAPAC Twitter handle for real-time updates.
For more information about NetSuite, please visit www.netsuite.com.sg.
About Event Engine
Event Engine, Inc. is a visionary event and entertainment marketing company specializing in the creation of unique athletic, musical, corporate and philanthropic events in extraordinary venues. Founded in 2000 by US Squash Hall of Fame member John Nimick, Event Engine has grown from the management of a single, but unique, annual professional squash championship in Grand Central Terminal to a portfolio of successful events in some of the best known locations in North America and with some of the best-known entertainment celebrities in the world. The Event Engine mission is to provide an unparalleled, highly valuable, highest quality result for clients, customer and corporate partners.
NOTE: NetSuite and the NetSuite logo are service marks of NetSuite Inc. Third-party trademarks mentioned are the property of their respective owners.