NetSuite cloud helps accelerate Mailplus' growth by 24 percent
Australian Mail Courier Replaced Multiple On-Premise Applications and Launched Mobile Version With NetSuite To Manage More Than 150 Franchises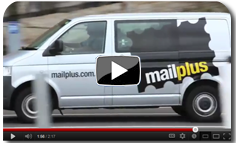 Sydney, Australia—12 November, 2012—NetSuite Inc. (NYSE: N), the industry's leading provider of cloud-based financials / ERP software suites, today announced that Australia's mail courier service Mailplus grew revenue by 24 percent in FY2011 to $20.5 million, after switching from multiple on-premise applications to NetSuite. It now uses NetSuite to manage its complete business cycle, including financials, sales and customer relationship management (CRM), as well as over 150 franchise partners across Australia. It also created an iPad and smartphone application using NetSuite's SuiteCloud development platform to provide its sales force with remote access into NetSuite's partner centre to assist with meeting prospects in the field. After switching to NetSuite, customer signings doubled on average from 100 to 200 per month and sales cycles accelerated from three months to one week in the first six months, without increasing overhead costs.
Founded in 1997, Mailplus is a private Australian company owned by Jigsaw Capital, providing mail courier services to more than 7,000 businesses across Australia, such as picking-up and delivering mail, depositing bank cheques and picking up supplies from the Post Office. It was recognised in BRW's top Australian Franchise Businesses list in 2011, after achieving gross sales of more than $16.6 million in 2010.
Mailplus moved to NetSuite's single, cloud-based business management suite in early 2010, after its previous on-premise applications struggled to handle its rapid growth. This included MYOB for accounting, FileMaker for CRM and sales, as well as various additional applications and spreadsheets for managing core processes, such as invoicing and telephone sales.
Mailplus now uses NetSuite to manage the key aspects of its entire business, while its franchisees use NetSuite's Advanced Partner Centre to manage the key aspects of their owner-operated businesses, including lead management, order processing, CRM, marketing, accounts, sales forecasting and head-office communication. Both solutions are integrated to give Mailplus real-time visibility into the marketing and sales activities of its franchisee network, providing better tracking, shorter sales cycles and expanded revenue opportunities. It has also reduced IT maintenance costs by around $100,000 per year since moving to NetSuite.
"The more franchisees we added to our old system, the greater the system stress—to the point that it was crashing almost daily and costing us thousands of dollars a month to maintain and service," said Chris Burgess, chief executive officer for Mailplus. "Switching to NetSuite solved these problems, giving us the scalable platform we need to grow our business. More importantly, our franchisees now have a real-time view into every aspect of their business at anytime, particularly customer sales."
In addition, Mailplus used NetSuite's SuiteCloud development platform to create an iPad and smartphone application that gives franchisees remote access into the NetSuite partner centre. Franchisees can now download multiple leads and allocate them to the geographically closest sales person, using inbuilt GPS software in the device. The salesperson is automatically given a detailed map to find the prospect, as well as qualifying information such as the potential customer's mail requirements. Once in the meeting, customers and prospects can sign contracts on the device, further streamlining the process. Then, once a customer is signed up, franchise owners have immediate access to their details to incorporate into financial forecasts.
"We've gone from a very manual system to a completely automated system," said Mr Burgess. "As a result, our lead time for signing up a new customer has reduced on average from three months to one week. We are also signing up a lot more customers with far fewer sales people. Once we needed eight sales people to sign up 100 customers a month; now half that number signs around 50 new customers a week. It has made an incredible difference to our business."
Mark Troselj, managing director of APAC for NetSuite, commented: "Businesses with a large distributed sales force like Mailplus, are increasingly turning to cloud-based business management tools to enable their sales teams to operate more effectively from any location and on any device. With enhanced mobile integration, Mailplus now has instant access to back-office intelligence and support when they most need it—closing a new customer deal. That is the real power of cloud."
Today, more than 12,000 companies and subsidiaries depend on NetSuite to run complex, mission-critical business processes globally in the cloud. Since its inception in 1998, NetSuite has established itself as the leading provider of enterprise-class cloud ERP suites for divisions of large enterprises and mid-sized organisations seeking to upgrade outdated client/server ERP systems. NetSuite excels at streamlining business operations, as demonstrated in a recent Gartner study naming NetSuite as the fastest growing top ten financial management systems vendor in the world. NetSuite has continued its success in delivering the best cloud financials/ERP suites to businesses around the world, enabling them to lower IT costs significantly while increasing productivity, as the global adoption of cloud is accelerating.
For more information about NetSuite please visit www.netsuite.com.sg.
For more information about Mailplus please visit www.mailplus.com.au.
Follow @NetSuiteAPAC on Twitter for NetSuite news and real-time updates.
NOTE: NetSuite and the NetSuite logo are service marks of NetSuite Inc.