Forecasts suggest an increase in 2022 holiday spending across a number of Asia Pacific nations, including Australia(opens in a new tab) and New Zealand(opens in a new tab). That, of course, is great news for retailers and many other businesses that rely on the festive shopping season for as much as one-quarter of their annual revenues. With so much on the line, businesses need to find ways to stand out from the crowd. Here we offer 15 tried-and-true marketing tips for attracting seasonal and holiday shoppers and getting them to dig deep into their wallets.
15 Holiday Marketing Tips to Take Advantage of in 2022
Christmas is widely regarded as the official start of the holiday shopping season in Australia, New Zealand. In reality, though, 85% of Australians begin Christmas shopping in late October(opens in a new tab) and 57% of them will have finished by the end of November — following Black Friday and Cyber Monday sales.
Hong Kong shoppers, meanwhile, are accustomed to shopping in November with many consumers taking advantage of Singles Day(opens in a new tab) sales, and 65% of Filipino shoppers purchase Christmas presents during the Online Revolution(opens in a new tab) shopping event, which starts on 11th of November and lasts through to 12th of December.
In Singapore, the holiday shopping season commences even earlier, in September, approximately one month before the Diwali festival begins. Shoppers in Hong Kong and Singapore also increase their spending during Lunar New Year — which occurs between January 21 and February 21 — with products from the hospitality, food and beverages industries being in high demand. This brings us to our 15 holiday marketing tips:
Start holiday sales promotions early but ramp them up gradually.
Develop a holiday marketing campaign.
Review the results of previous holiday campaigns.
Send a holiday card to customers.
Intensify your email marketing.
Build out your social media.
Create a webroom to showcase products.
Launch a pay-per-click campaign.
Take advantage of ad extensions.
Create a sense of urgency with limited-time offers.
Advertise on Facebook.
Stay in hot pursuit of customers with ad retargeting.
Make an emotional appeal.
Make a holiday video.
Give to a worthy cause.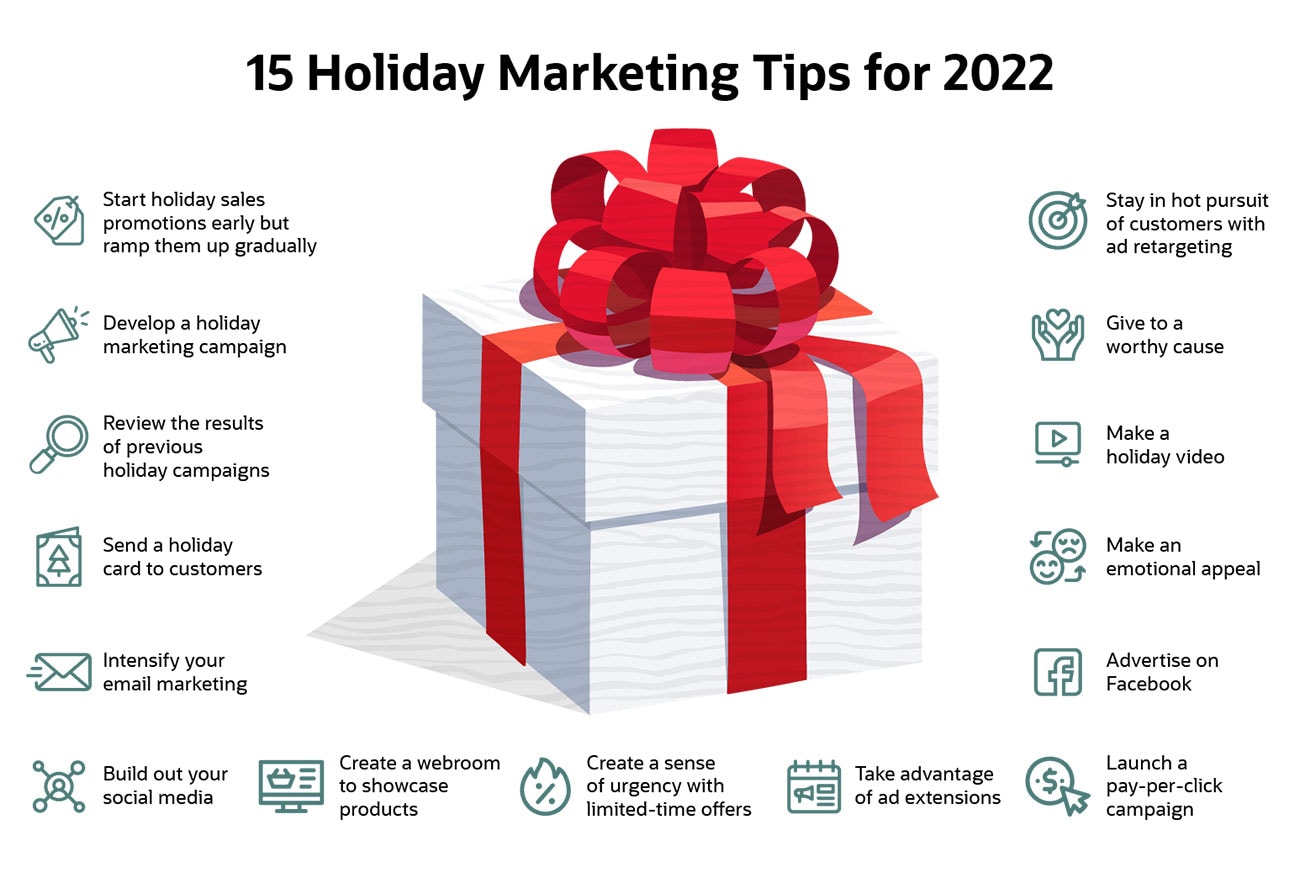 Start Holiday Sales Promotions Early but Ramp Them Up Gradually

Roy Morgan estimates(opens in a new tab) that Australian consumers spent an average of AUD$722 on Christmas gifts in 2021, with New Zealanders spending an average of NZD$561, as suggested by data from Finder.com(opens in a new tab). Meanwhile, research from MiQ Asia Pacific(opens in a new tab) indicates that more than half of Asian shoppers are set to significantly increase their spending during the 2022 festive season. To capture your share of this largesse, your holiday promotions need to coincide with your prospects' spending patterns.

That means launching promotional efforts no later than early September in Singapore, and the last week of October in Australia and New Zealand, if possible. But these are still early days. Consumer spending accelerates during Black Friday, Cyber Week and Singles Day sales, and so should your marketing. Coming in too hard, too fast, however, may limit a promotion's effectiveness; it's wiser to ramp up gradually, so that each week you have something new to offer. And hold off going full throttle until the last three weeks of December, when the seasonal shopping spree reaches its apex.

This also applies to mood-setters, like holiday decorations and music. While consumers enjoy the traditional songs, for instance, they can easily get their fill. So, roll the holiday tunes out slowly to avoid oversaturation.

Develop a Holiday Marketing Campaign

Approach holiday marketing as a campaign that reaches customers in many ways: search and online advertising, email and social media, newsletters and videos, holiday events, promotions and giveaways, and in-store displays.

Develop your campaign around a holiday theme that's tied to your product line and brand. For example, a seller of cookware or specialty foods might develop a campaign around preparing favourite seasonal dishes, a liquor store could run with "wines of the world for the holidays" and a clothing outlet could centre its promotions around fair trade and the joy of giving.

Review the Results of Previous Holiday Campaigns

To make the most of your marketing dollars, review the results of your previous holiday campaigns to get a better understanding of what worked or fell flat. If you made some mistakes the past few times around, there's no need to repeat them. Analysing your previous strategies can help you put your marketing wood behind your best-performing arrows.

Likewise, take some time to review your latest customer data. What changed? For example, has there been a shift in their demographics? If so, there's still time to tweak your brand's messaging before launching this year's online holiday shopping blitz.

Send a Holiday Card to Customers

A holiday card is an easy way to kick off a campaign. Cards can be sent by email, via an online service or traditional mail (be sure to hand-sign those cards). To deepen the connection, consider including family and employee photos with the card. After you send it, you can continue to make use of the card by posting it to your website and featuring it in your social media.

Intensify Your Email Marketing

Recent surveys and studies show consumers remain receptive to email marketing, making this an extremely effective vehicle for driving holiday sales. But it doesn't take an in-depth study to understand why. During the busy holiday season, consumers typically have little time to research products and scout out deals. But they are checking their inboxes. An email they can quickly scan wherever they may be — even waiting in line at another store — makes it easy for them to spot interesting offers. And because they're already in a shopping frame of mind, emails seem less intrusive and more helpful.

A best practice is to send your emails according to a regular schedule and use them to showcase new products, highlight worthy causes and invite customers to holiday events — as well as to promote sales and special offers. And remember, even if you run a business that isn't geared around the holidays, you can still keep yourself in front of your customers by sending out a seasonal greeting.

Build Out Your Social Media

Another benefit to email marketing is it makes it easy for customers to share the information you send them via social media. This means your well-crafted messages will reach an even wider audience.

You can encourage sharing by posting your content on your own social media channels. When doing so, don't solely use a generic hashtag, such as #HappyHolidays. Rather, create your own branded hashtag that incorporates your company's name (#BooksforBrainsHolidayTips, for example). This can give you a leg up in the social media search feeds for popular phrases.

To blanket your audience, take advantage of all the major social platforms, including Twitter, Facebook, LinkedIn, Instagram and YouTube. Add photos and videos to your content wherever appropriate.

Create a 'Webroom' to Showcase Products

When shoppers want to look at a product before committing to a purchase, they head to a showroom to examine the goods. But like most everything else in life, what used to take place in a store is now increasingly taking place through ecommerce.

Webrooming works the same way as showrooming, except offerings are presented via the web. Shoppers can't actually handle products or try them on for size, but they can inspect them from every conceivable angle and even peer inside. Sellers of high-tech wares can take advantage of this by providing views of the advanced components and innovative designs their devices incorporate. But so can purveyors of more traditional items. Clothiers, for example, can show off the quality of their fabrics by providing magnified images of weaves, stitchwork and other fine details.

A webroom can be an important part of your holiday marketing strategy, especially for big-ticket items. Make it convenient and easy for customers to access your webroom, where you can spark their interest and use it as a lure if you want to get them into your showroom.

Launch a Pay-Per-Click Campaign

According to Statista, 48% of Australians(opens in a new tab), 25% of Filipinos(opens in a new tab) and 15% of Hong Kong(opens in a new tab) shoppers expect to purchase holiday gifts online, and 68% of Singaporeans(opens in a new tab) plan to shop both online and in brick-and-mortar shops, so this is a good time for businesses to ramp up their digital sales efforts. A pay-per-click (PPC) campaign will quickly boost your web traffic, particularly at this time of year when holiday shoppers are more reliant on search engines. A customised campaign across the major search engines can instantly put you in front of customers who are searching for the goods and services you provide.

To maximise the impact, tailor your campaign to the most highly searched keywords and phrases associated with your offerings. You may also benefit by including phrases like "best gifts for mom" and other popular holiday searches.

Take Advantage of Ad Extensions

Ad extensions, which permit extra information to appear in search results, are a key component of any PPC campaign because they can boost a business's search engine ranking. Possible extensions include site links, which provide a link to any page on your website; call extensions, which allow the ad searcher to call you with a click; and review extensions, which link to verified reviews of your products and services. There are many others as well, all of which can help your ad pop and quickly move search prospects through your sales funnel.

Create a Sense of Urgency With Limited-Time Offers

Holiday shoppers fear the last-minute crush. They may have the money to spend but not the time to spend it wisely. That's why limited-time offers can work so well. They're designed to add to the sense of urgency these customers already feel. "Don't have the time to shop for the best deal? Worried you'll buy the wrong thing or it won't be delivered on time? If you're willing to act quickly, you can put those fears behind you." That's the message behind a limited-time offer: special deals at bargain prices that are guaranteed to please — as long as you buy now.

For customers, the quid pro quo is obvious: In return for a swift purchase decision, they get a great deal on quality merchandise that will arrive on time and please the recipient. If your ad copy and sales promotions reinforce this message, your bottom line will likely be very happy as well.

Advertise on Social Media

Social media advertising is a good way to increase your holiday traffic because the psychology of the season is on your side. Many people will do most anything to avoid a last-minute shopping rush, and when they can't find what they want they may vent their frustrations on social media. The combination opens the door to a well-placed Facebook, Instagram or YouTube ad, which offers them a solution to their holiday shopping travails.

Among the advantages of advertising on social media is the ability to identify and segment your target audience based on the wealth of user data captured by the platform. This includes demographics, ad preferences and shopping behaviours along with many other relevant traits. And because click-through rates can be high, a well-wrought social media ad can be quite cost-effective. Businesses should consider which social media platform is most relevant for their customers and business type. Business-to-business organisations should look at LinkedIn, whereas consumer businesses with highly visual products should consider Instagram.

Stay in Hot Pursuit of Customers With Ad Retargeting

Few website visitors are ready to buy during their first site visit. But there's no reason to lose these would-be customers just because they left without making a purchase. Stay front of mind as they continue to browse other sites by taking advantage of ad retargeting. This tactic helps drive sales by targeting recent visitors to your site with ads that help them recall your offering as they sort through their options. However, businesses should be cautious of how they gather and store user data to avoid user privacy concerns.

Ad targeting is effective because it conforms to most people's online behaviour. First they research what they want, visiting multiple websites in the process. And when they're ready to pull the trigger, you're still there and offering an easy way back to your product. The proof is in the click-through rates for these ads, which has been cited as 10 times greater than other types of display advertising.

Make an Emotional Appeal

'Tis a season full of sentiment, so appeal to your shoppers' emotions. The best holiday marketing strategies resonate with the excitement and nostalgia that consumers experience during festive times of year. As you develop your holiday campaign, pay close attention to the emotions evoked by your content. Uplifting and inspirational messages can win new business when they're strongly associated with your products.

Make a Holiday Video

Music and pictures are two of the most effective ways to tap into your customers' sentiments, so combine them into a one-two punch and produce a holiday video. Given that, globally, consumers spend an average of 84 minutes a day(opens in a new tab) or more watching online videos, most professional marketers consider this format a key part of their promotional strategies. For the seasonal selling season, this makes adding a video to your website, emails or social media postings one of the most powerful tools you have to deliver your holiday message and familiarise customers with your products and services.

Give to a Worthy Cause

This is the season for giving. Among the best ways to do so is to support a charity or endorse a nonprofit that ties in with your brand and is popular with your customers — who are apt to notice your efforts. Should you decide to donate a share of every sale to that cause, you're giving customers an additional incentive to spend their holiday dollars with you. For maximum impact, be sure to promote your charitable efforts through your emails, social media and holiday videos.
Conclusion
The holiday season can make or break your revenue goals for the year. But by starting your marketing efforts early, learning from what worked in prior years and developing your campaign around a festive theme that ties in well with your business, you can avoid the holiday doldrums and capture more seasonal dollars than ever before. And by tailoring the above suggestions to suit the particular needs of your business with the help of an ecommerce platform, you can position your business to take advantage of the holiday season.
Holiday Marketing Tips FAQs
How can I promote my holiday marketing?
Tools like ad extensions, pay-per-click campaigns and ad retargeting can extend your marketing efforts and make them more effective. Start your promotions early, but ramp them up gradually. Many consumers begin their holiday shopping in October, but the holiday selling season doesn't peak until December in Australia and New Zealand for Christmas, and January in Singapore and Hong Kong for Lunar New Year.
How do I start a holiday marketing campaign?
Begin by choosing a holiday theme that's closely related to your products and brand. Then develop your advertising, emails and other promotional materials around that theme. Creating a holiday greeting card for your customers is a good place to start.
When should I start advertising for the holidays?
With 85% of Australians beginning their Christmas shopping in late October(opens in a new tab), many Hong Kong consumers taking advantage of Singles Day(opens in a new tab) sales in November, 65% of Filipino shoppers purchasing Christmas presents during the Online Revolution sale period(opens in a new tab), and the Singapore shopping season commencing in September, it's a good idea to start advertising according to these timeframes. Ads on search engines and social media platforms reach a very wide audience and are very cost-effective.
How do you attract customers for Christmas?
There are quite a few different approaches. Holiday greeting cards, social media ads and time-sensitive offers are among the many ways you can capture your target customer's attention. And if you have a brick-and-mortar store, don't forget the holiday décor. Consider oil lamps during Diwali or pine trees during Christmas for example.